Technological Advantages
We utilize our vacuum and thermal and surface treatment technologies to offer optimal solutions for surface reinforcement.
Nozzles for Injection Machines
The nozzle is the key to stable forming. It is crucial to quality and yield improvement and cost reduction. We produce two types of nozzles, open and shut-off (needle) nozzles, and materials vary from standard to corrosion- and abrasion-resistant types. Some nozzles have advanced roughness of the inside surface for use to produce optics, disks and connectors. We have also eliminated the problems of adhesive stringing or dripping and produce nozzles with abrasion-resistant ends as this is the key to nozzle life.
Screw Heads, Check Rings, Seal Rings (3-part set)
We manufacture screw heads from standard or corrosion- or abrasion-resistant materials in open and claw types. We also make different types of screw heads with a variety of surface treatments for precision forming and improvement of removal from molds. We also produce customized screw heads through ion nitriding, TIN coating, CRN coating, and hard chrome plating in accordance with molding and resin.
Other Customized Precision Parts
Our products are not limited to nozzles, screw heads, check rings, seal rings, cylinder heads and adapters. We also manufacture various mold components and precision machinery parts from the initial material stage, through the thermal treatment and finally to the coating. This allows shortening of lead-time between processes and cost reduction. We also respond to small-lot production of corrosion- and abrasion-resistant screws. Please FAX us your drawings or show us your products and we will respond promptly with a quote.
Materials and Thermal Treatment Methods Are Key to Ensuring Quality
High-speed cutting and heavy grinding cause accumulation of internal stress of materials and thermal treatment distortion and increase deformation. We have sought materials, mainly die steel, high-speed steel and stainless steel, that are best for solving the deformation problem. Through repeated testing, we determined that materials manufactured by Sweden-based Uddeholm are by far the best. Although they are costly, users evaluate them highly. We also use quality Yasuki steel made by Hitachi Metals for users who prefer that material.
We perform all thermal treatment in house using one vacuum furnace manufactured by Koyo Lindberg and four ion nitriding units in order to minimize deformation after treatment. This allows us to take advantage of grinding accuracy before thermal treatment and minimize machining allowance after hardening to further improve accuracy.
Accuracy of treatment before thermal treatment determines the final quality
The treatment before thermal treatment is also critical to the quality of the final products. The lathe and the machining center mainly perform cutting work. We also are careful about the regrinding of our cutting tools. We have collets of all sizes for regrinding drills and use a drill grinding machine made by the French company Avyac in order to maintain the identical center although regrinding is said not to greatly affect accuracy. Although lathe turning and milling work is considered good enough, we also utilize the following grinding machines before thermal treatment: five machines manufactured by Studer (Switzerland), two machines made by Jung (Germany), two machines made by Voumard (Switzerland), and one machine manufactured by Hauser (Switzerland). One major advantage of European grinding machines is that they can perform heavy grinding and anyone can yield perfect results. Facility cost is offset by its reliability. Accuracy of grinding work before thermal treatment is essential for better quality of finishing grinding after thermal treatment.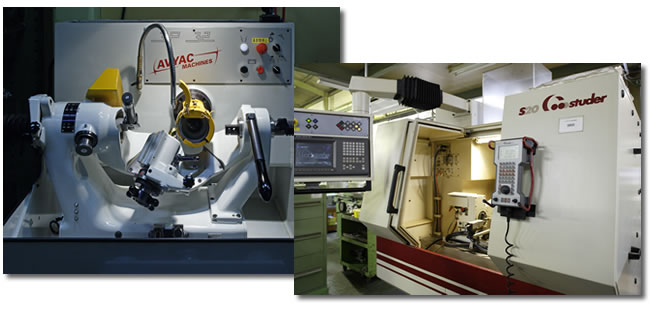 Ensure QC through quality checks at each stage in the manufacturing process.
The accuracy measurement room is equipped with world-standard measuring instruments including a 3-D measuring instrument by Carl Zeiss and Surftronic and Talyrond by Taylor Hobson. Each worker checks the quality at each stage of production they are responsible for from lathe turning to final grinding. They take processed products to the measurement room to check the quality when needed. All workers have a micrometer manufactured by Tesa (Switzerland) and a cylinder gauge made by Diatest (Germany) including those in charge of lathe turning. Although these European instruments are both more expensive than their Japanese counterparts, they provide identical data regardless of the workers' skill and experience. Tesa's height gauge installed on the surface plate made by the Swedish company Johanson that would be usually placed in the accuracy measurement room is located neatly in the center of the machine processing area as it is used frequently by workers.